All The Hot Spots In South East QLD
This issue is packed full of home builder and property investor insights to help you along your journey to home ownership.
Where are the best home and land packages? Display home locations, house and land packages, house plans, building specifications and new property developments.
Off the plan apartments
Are you looking for an apartment in Queensland? We are proud to present our upcoming Gold Coast apartments. Explore our magnificent Oakey Bay apartments on the far Northern Gold Coast suburb of Coomera, along with our upcoming Newport and Nazare apartments at Southport.
Urban Appeal content
Word from the Director
The South East Queensland Building Specification
2021 Colour Selection
Madison Park Estate Display
Choice Facades and Floor Plans
Focus on Queensland
The Gold Coast
Oakey Bay Apartments
Newport apartments Southport
Nazare Residences Southport
Logan to Brisbane Corridor
Park Ridge Quarter
Madison Park
Ipswich
Pine Mountain Reserve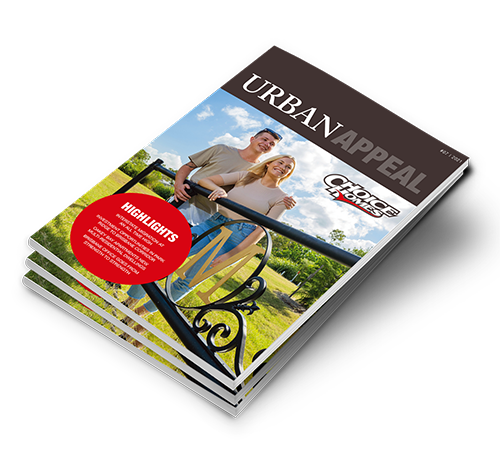 South East Queensland Market Insights
Migration from the southern states to Queensland has grown significantly and demand for housing in this part of the country is higher than ever.
Median asking prices for rents in Queensland's coastal suburbs rose to record highs last year following a mass exodus of sea-changers from the nation's southern capital cities.
The median asking price for house rentals on the Gold Coast is now $540 per week, up 3.8 per cent from the December quarter.
Figures from 1 January this year also show that the HomeBuilder grant has been very popular in Queensland (16,613 total), second only to Victoria (21,595).
All in all, things are looking rosy for property investment in South East Queensland.
The property market has maintained resilience despite COVID-19 and begins 2021 with plenty of growth potential.
Over the past 28 years, Choice Homes has built premier residential housing throughout the state and we are excited about what the future holds.

Since 1993, Choice Homes has proudly serviced South East Queensland, from the New South Wales/ Queensland border, Gold Coast, Park Ridge, Logan, Ipswich, Brisbane, and Sunshine Coast.
Choice Homes scope of works includes an incredible array of designs, from slope sensitive builds, home and land packages, first home builders, display homes, and contemporary custom builds.
We are a multiple-award winning builder with the Housing Industry Association, and Master Builders Association. Our other recent accolades include the Your Investment Property Magazine, developer/ builder of the year, and the Gold Coast Business Excellence Awards, family business category.
Our community involvement includes the long term support of a number of local events, the Skypoint Q1 Sea to Sky Stair Challenge, the Gold Coast Business Excellence Awards, Gold Coast Bodyboard Club and the Coomera Hope Island Cricket Club.
Choice Homes – Built for thousands of happy families.